What is B Secure?
B Secure is an extra service Bondora offers to borrowers to help them be prepared for the unexpected. With B Secure activated, you can choose your payment date, change your loan duration, or even take a payment holiday! And you'll get it for just €14.99 per month, regardless of the number of active loans you have.
PLUS, as a B Secure customer, you could win a loan-free life, and €5,000 cash!* All B Secure customers who pay their monthly installments on time are automatically entered into our lucky prize draws. You could be too! All you have to do is be an active B Secure customer and pay on time. Sign up for B Secure by logging in to your account and clicking the green button on the B Secure banner. If you have B Secure+ and make your payments on time, you are also included in the loan-free life competitions.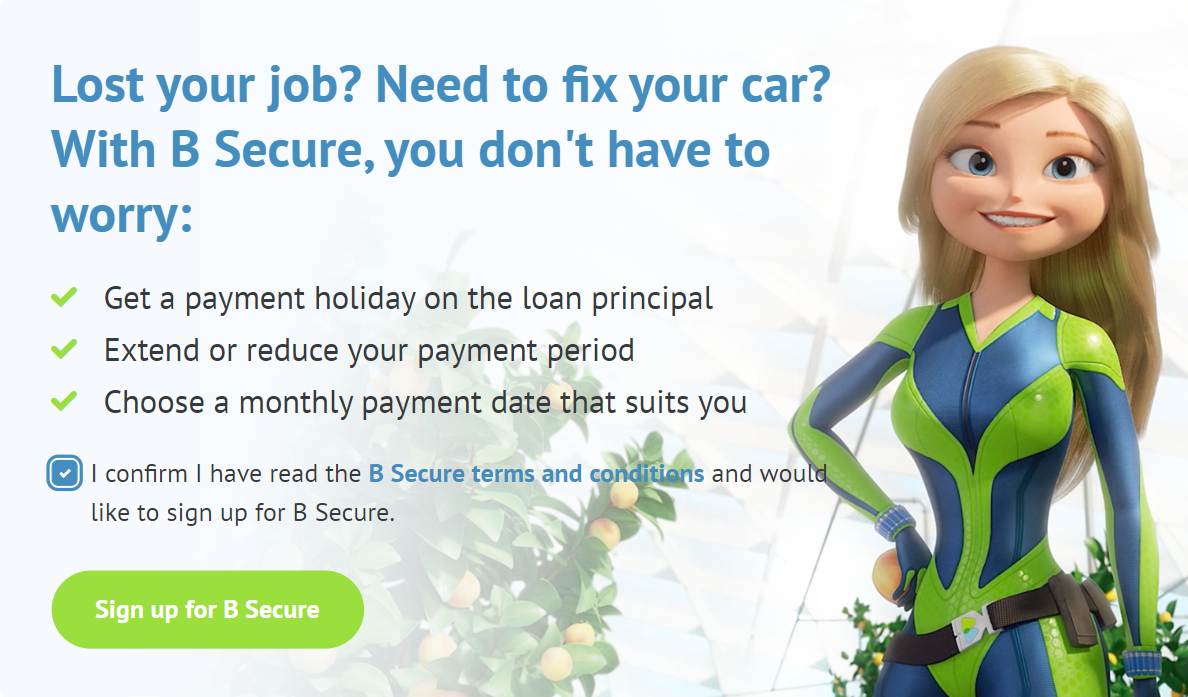 B Secure fee:
B Secure's service fee is €14.99 per month, regardless of the number of active loans and whether you use it or not.
The B Secure fee is added to your monthly payment. The service fee is automatically deducted from your Bondora account balance once a month on the payment date following the payment schedule. Make sure you have enough money in your Bondora account to pay both the monthly loan payment and the B Secure bill.
After activating the B Secure service, the first invoice must be paid together with the next monthly payment, regardless of whether the payment schedule has been changed or not.
B Secure can apply to all your existing and future loan agreements and terminates with your final loan agreement.
The B Secure service allows you to:
Take a principal payment holiday between 1-12 months (NB! During this period, you will still need to pay interests and commissions)

.

Change the length of the loan schedule between 1-60 months.
Change the monthly payment date to any date between 1-27.
Note: You don't have to select all the options at the same time. If you do not make any selections, the previous terms will continue to apply. For example, if you do not select a new payment date, the previous payment date will be used for the new payment schedule.
How to qualify for B Secure:
With B Secure, you can request a new payment schedule if you meet these conditions:
If there is one loan agreement, you must have paid at least one full monthly payment within the valid payment schedule.
If you have more than one loan, you can use B Secure only after you have paid at least the first monthly payment under the new agreement in full.
If you have recently changed your schedule using B Secure, you can use the service again if you have paid the full amount of at least one new scheduled monthly payment.
B Secure can be used as long as the contract is not terminated/loan defaulted.
If you have debt when changing the payment schedule (this includes unpaid invoices), your loan debt will be divided into the new schedule. Therefore, the following payments on the new schedule may be higher due to the added debt from your loan. Please note: unpaid invoices are not added to the payment schedule and must be paid separately.
What prizes can I win in the loan-free-life lucky draws?
If you are a B Secure customer and you make your monthly payments on time, you will be automatically entered into our exclusive cash prize draws! Every week, one winner will win €500, added to their account. Every month, one winner will have their loan repaid in full by Bondora, regardless of the loan amount. And once a quarter, one lucky winner will get the grand prize of having their loan be repaid in full by Bondora, PLUS €5,000 in cash!
All you have to do is be a B Secure customer and pay on time every month to stand a chance to win! Read more here.
*The campaign is organized by Bondora AS. Before deciding to participate in the campaign, please examine the terms and conditions and consult with a specialist, as necessary.
How to cancel B Secure
Please contact our Support team via the feedback form below to cancel your B Secure. The last bill for B Secure must be paid with the next monthly payment. B Secure becomes inactive 30 days after it's been canceled.