How do I repay my loan early?
You can repay the loan in full or partially at any time. If you decide to repay the loan early, you will have to pay the balance of the principal amount, the total interest accumulated up to the repayment date, as well as any outstanding invoices. At the moment there is no extra fee for repaying your loan early. If you add more money to your account than your monthly payment due and haven't clicked on the "Repay early" button, after 3 days, Bondora is entitled to consider the transferred amounts as (partial) early repayment.
To make full early repayment, follow these steps:
Check to see the exact amount you have to repay. Select "Loans", and click on the "Show more" button, then select "Repay early". Remember: The amount changes every day due to the interest calculation.
Make sure you have enough money in your Bondora account to terminate the contract. If not, add money to your account first.
Once the required amount is in your Bondora account, select "Loans" again. Click on "Show more" and select "Repay early".
You will then need to "sign" the termination of the agreement with a PIN code, which will be sent to your registered telephone number. NB! The loan agreement will only terminate after you've signed.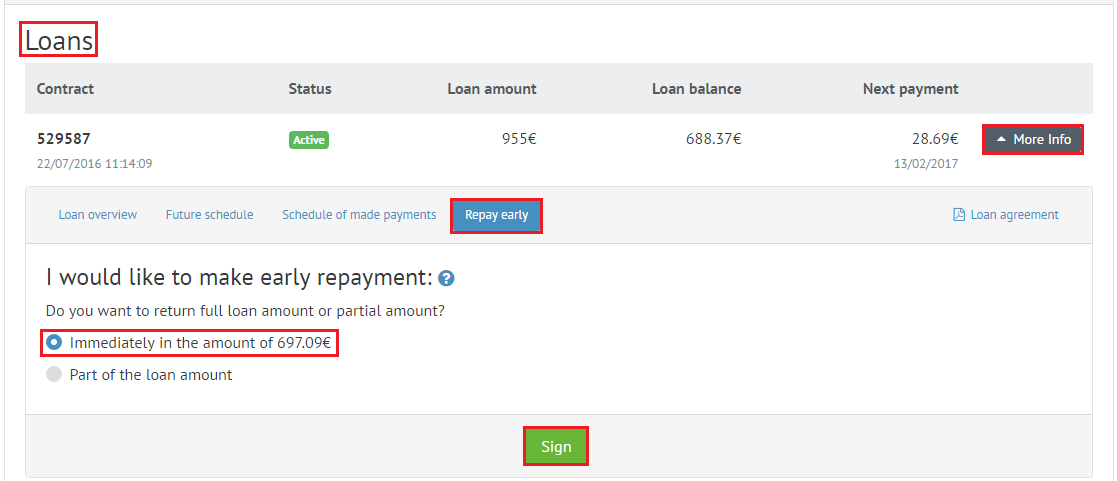 To make a partial early repayment, follow these steps:
Transfer the amount you want to repay your Bondora account.
Once the money is in your account, select "Loans", then click the "Show more" button, select "Repay early", choose "Part of the loan amount" and enter the amount you want to repay.
If you want to, you can choose a new loan period. If you don't select a new one, the previous loan period will be used to create a new schedule. Click the "Show new schedule" button to see the new payment schedule.
Click "Sign" to accept the new schedule and confirm the partial early repayment. Partial early repayments must be signed with a PIN code sent to your registered phone number. Changes will not take effect until this is done.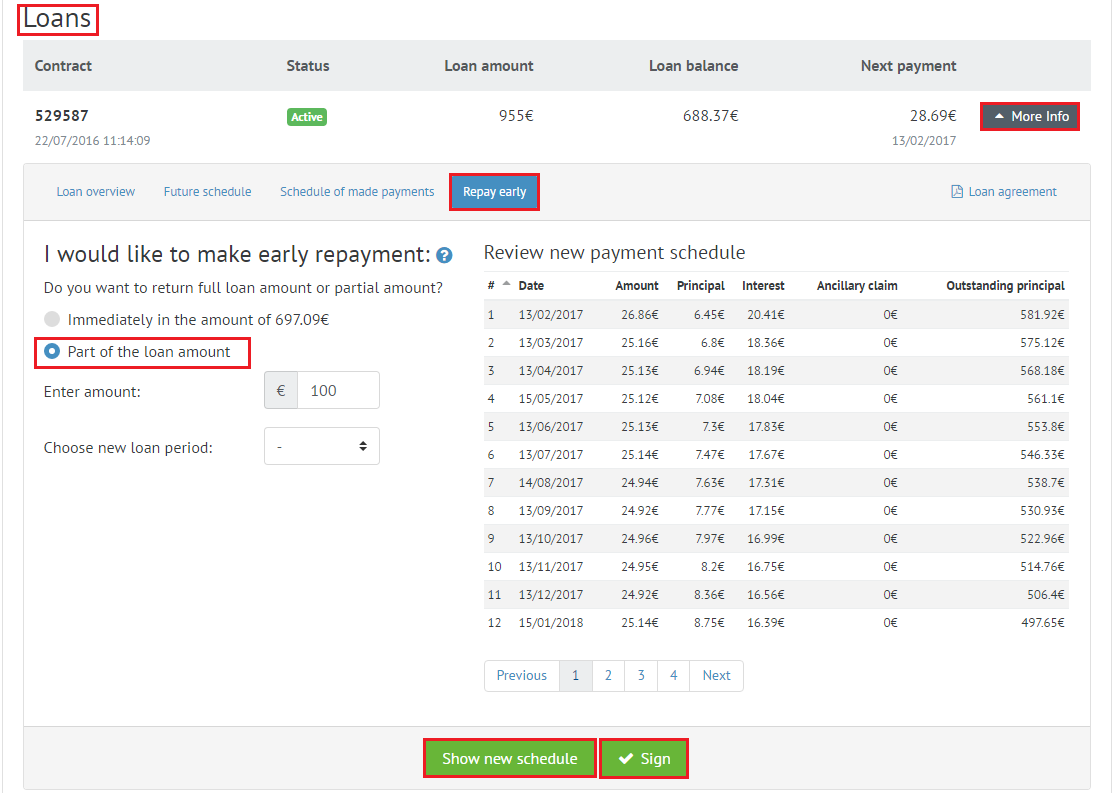 Remember: If your phone number has changed, you can change it on your Bondora account. Read more about changing the phone number here.